I was a great wife, but you were a horrible person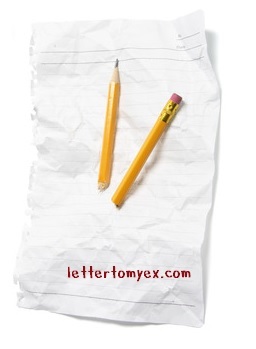 Letter to Paul that I will never send but gives me the opportunity to do the work.
Paul,
I want you to know I still have to work to forgive you for the infidelity you put me through the fact that you asked for a divorce when you came home, after cheating on me with prostitutes in south florida putting me at risk for HIV/AIDS when you were down there working after hurricane Andrew. The fact that I forgave you we started therapy and you cheated again when you were out of town in Columbus Oh. then you threatened to take the girls from me, if we divorced. The times you tried to make me feel like I was the reason for all of it.
The fact that through all of that I tried to work on the marriage, and continued to think we would be able to make it work.
Had I been smarter, I would have left right then and started a new life but you had me convinced I couldn't make it on my own and that you would take the girls from me. I would have been in a better position than I am right now. It would have been the best thing for the girls and I. But I didn't understand that then. I tried I really did. For years I ignored your explosive anger, your dry drunken rage. You convinced me that it was my fault that you cheated it was my fault you were so angry it was my fault you treated me so bad. You once said I couldn't take care of myself if I stood naked on a street corner." I'm thankful the girls doesn't remember that because I do remember she was standing there. Thank God she was to young. Yes you convinced me of that also. But the fact is I am doing well without you and my only regret is that I didn't do it sooner. That I didn't see how abusive you were, Oh yes I didn't have marks on my body but your emotional abuse and mental abuse were just as bad. It's so crazy that I let you convince me that I was worthless. That I couldn't do better for myself it was how you controlled me. Years of low self esteem, achieved by verbal abuse.
The red minivan, red of all the colors for an I'm sorry I cheated I'll buy you a new car you chose red, hell I didn't even have a say so in picking it out. I guess you didn't read the Scarlett letter, why am I not surprised. I hated that car every moment in it a reminder that you cheated and "it was my fault".
This letter is for no other reason than I am working on forgiveness and well I will forgive you for all of it. As much as I want to print this out and leave it for you in a sealed envelope I won't. It will remain here for me and me alone. You know longer control me. I forgive you because I will not let you control me a second longer.
I did my best, and that is what matters to me. I raised our daughters I made a home, I am a good mother, I was a good wife for as long as I could be, at some point though I stopped because everything you said about me started to make me realize that you didn't love me. You never loved me because if you love someone you don't say all those horrible things.
I remember you yelling at me almost the whole trip from Tampa to Coral Springs when we were dating I should have called it off then. but I grew up in such a dysfunctional home that i thought that was normal.
My biggest regret is that I allowed you to subject our children to your rage, anger, dry drunk personality.
I should have left and made a life as a single mother, but my own past and your belittling of me made that an impossible thought for me at the time.