I still have a weird yearning in my heart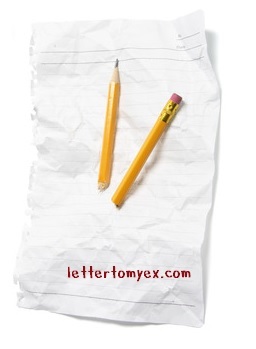 dear ex.
it's the start of a new year, the start of a new beginning. yet, my mind is still clouded with events that happened months ago. i still think about you every day and it makes me feel pathetic.
we met in a music room, where you asked for my number. we connected so quickly, and you asked me out roughly two months later. at that time, you were the reason i was still smiling because you made me so happy. you were the reason i stayed up late at night because i got to see sides of you no one has ever seen. you were the reason why my heart ached because i felt like i could never have you. you were the reason i was so cheerful because your words of kindness made me that way.
you were the reason i fell in love. i fell in love for real. i truly fell in love for the quiet, shy boy that day.
i loved, and sometimes i feel i still love, everything about you.
i loved your eyes. the way they softened every time they looked at mine. the way they quickly diverted seconds after. your eyes showed me you really loved me.
i loved your smile. i always felt my heart tremble with your smile. a smile that was for me and only me. a beautiful smile for a beautiful person.
i loved your cheeks. i loved the warmth of them on my palms as i kissed you. i loved putting my cheeks against your own to bring you impossibly closer to me.
i loved your lips. the way they caressed my own, the way they marked me, the way they formed the words "i love you".
i loved your personality most of all. i loved how you would be there for me when i really needed someone. you always gave me your undivided attention and made time for me. you talked to me until unusual nights in the morning, sacrificing your own sleep schedule. we didn't have time to see each other, but you made sure to keep in touch as much as you could.
you asked me out on may 28th.
from this point to august 6th, you began to change. you were still the sweet boyfriend i grew to love, but you started to become the rude, close-minded, and hurtful boy i sometimes see. you constantly had the weirdest moods and you "dumped" me for less that a day, then dated me again. how was i able to accept you so open-heartedly? because i loved you so fucking much. it scared me, however, because every time i forgave you, my heart would begin to crack.
on august 6th, we were to finally see each other after a month. we were talking sweetly, but you all of a sudden turned cold. you ignored me when i saw you. i tried to talk things out but you didn't listen.
so you dumped me.
that night, i cried. i called at least four friends and sobbed until 4 in the morning. when i woke up, i was so empty because i realized you were gone.
a week later, however, we decided to be friends. i was still in love with you.. so it didn't matter whether or not i was hurt. i needed some kind of contact with you, no matter what it was.
you began to flirt with me again and started to say i love you two weeks later. it made me forget about all the terrible shit you have done to me. so i forgave you. and we started dating again on september 9th. you drove to where i was at, asked me out, and then we made love in a public park. i don't know what i was thinking.
you continued to visit me and we continued to do things we shouldn't have done. we went to homecoming on september 18th. all i remember that night were secretly exchanged kisses, eating grilled cheese at coney island, and going home crying. why? because not once that night did you tell me i was beautiful.
something happened to us. we went to a festival, but i third wheeled because you brought your cousin. i was so fucking angry. i left you with your cousin in a food tent. you didn't spare me a glance once and walked ahead of me the entire time.
that was when i realized what was wrong.
on september 27th, you visited me again. but the atmosphere was different. when we texted, you hid something.
we went to our usual spot in the park and we made out. we cuddled under the trees, held me close to you, and showered my face with kisses. you told me you loved me so much and that you will never let me go. you made me feel like a princess.
that night, i opened to you about my depressed state. that night, you promised that you will be here to help me, that you'll love me for who i am, and that you will continue to help and support me.
the next day, on september 28th, you dumped me over skype. you dumped me because you liked a different girl the entire time.
fuck, was i sad. i knew i should have listened to all of my friends who told me not to love you.
i was desparate. i didn't want to give up. we tried to be friends for a week, but you had enough. you told me i was boring and uninteresting. that we should have never been friends in the beginning. that we should never speak again.
i still had to see you once a week. because we're in the same club. we pretended like the other wasn't there, leaving me in an even more confused state.
but something happened after my two months of crying and yearning.
on december 19th, you came up to me. you told me you were sorry for all the mean things you've done and how cold you treated me after we broke up. you looked so.. nervous. but i forgave you, like the many times i did before.
and now we are friends. now we are on good terms, to the point where we talk every day now. but i still have a weird yearning in my heart.
i really wish you well, rico. eventually my yearning will go away. but i truly wish you the best this year,and the many years to come.