It's strange to think about now we're history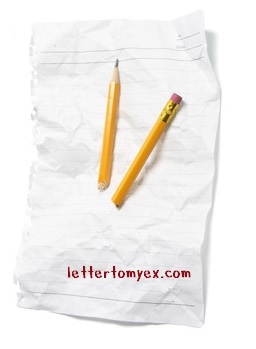 It's been 9 months now since we've ended. It's strange to think about us, since it's history. I don't think about you often, but I do still wish you well.
Today, I was in a skype call with an old friend (the one you and I ragged on and made fun of when we were together, because we thought all we needed was each other). We were having an emotional philosophical talk about life and it's meanings, it's roads, you know, all that stuff. I told her I still had the letter she had sent me on my birthday of 2013, she drew me some stuff and wrote me something. I was depressed that year and I wanted to prove to her it meant so much to me that I kept it since then, even after the horrible things I said to her with you. The place I kept it was a place I put all the meaningful things people have kept me- and that was not many. 2 cards from my mother saying happy birthday, the drawings and letter from Kaya. I got something I didn't expect. The letter you sent me, and the drawings you drew.
I didn't know what the piece of paper was at first, it was tied with… something, a colored string of some kind, I opened the letter and felt a shock go down my spine, I started to cry. i realized it was the letter you sent me. I had to put it down, I was out of breathe – I had completely forgotten that you sent me that. I couldn't believe it. I had gotten rid of everything that reminded me of you… but this meant something to me, so I kept it. I forgot about it, though.
I read it in tears… the words you wrote… were they all a lie? Were they a lie then? Are they a lie now…? Those are words I'd love to hear someone say to me, write to me, express to me. Perhaps I took it for granted at the time.. I was having surgery and I was scared. Still… I couldn't believe what I was reading.. the last words you ever said to me were that you didn't love me anymore, and I told you all I wanted to do was help. That was it, then it was over.
… It's all a blur now, it's history. I want to thank you for your kind words written. I will hold onto them, even if they don't hold true today.