hardest thing ever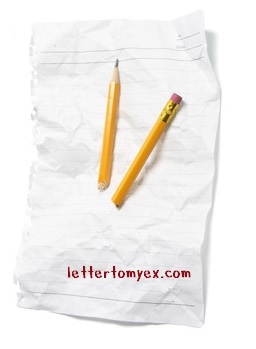 dear rebecca,
this break up completely took me by surprise. I thought we were happy and you used to say it yourself, then you said you weren't sure if things were the same any more, while they were not the same i was willing to work on the problems but for you it was easier to push me away.
since the break up the decisions i have made and the things i have said were from the bottom of my heart or were because i care so much about you, i cant just throw away or block the feelings and memories that we shared over the last 3 years. i appreciate you are going away for 3-4 months this summer and it was probably easier for you than stay with me but it has crushed me, all this being said the my actions whilst i thought they were for the best they only ended up pushing you further away
now you don't want to talk to me and i can only hope that you will forgive me one day and hopefully speak to me. i am an empty shell with nothing to give because i gave it all to you.
ill never forget your gorgeous green eyes, the laughs, the romance, the wonderful memories we created because honestly you were perfect!
i wish you the best in life and you will always have my heart, i did see a future for us i am sorry i couldn't help you see it too. good luck with everything you choose to do and make sure you go out there and find the person who can make you happy because i know you have decided it is not me. you deserve to keep that wonderful smile on your face!
Thank you and i love you.