I hope this isn't goodbye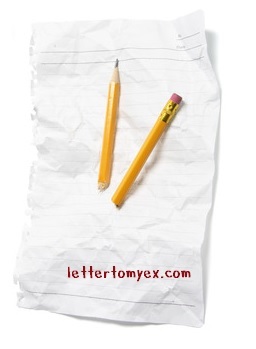 This is just an open letter of all of things I want to say to you. I've never actually understood the feeling of loving and hating someone at the same time until now. It's sad to say how much of a fool in love I was for you.
Until today, idk if you ever actually loved me. I regretted the day I broke up with you. If I can take it back I could but I know I did it for a reason. And besides, you didn't fight for me to stay when I wish you did. All I ever wanted was for us to work, to go a day without bickering and fighting. I could honestly say I thought you were the one. You were so easy to be myself around with, talk with, lay in bed with, laugh with, be fat with, etc. I enjoyed every minute every time we would spend together, but it wasn't enough for us.
I missed you too much the days I couldn't see you. When things started going down hill, it was hard for me to believe that you still even wanted to be with me because it was like you didn't care/ love me anymore. I ended things thinking it would help us grow to make things better. I was wrong, it did the complete opposite.
I shouldn't have tried those dating apps again because I knew I only wanted you. I just wanted you to see that I was ok without when deep down inside, I was crying out for you. You broke my heart the first time when you went to Poland in July when you came back saying you didn't want to be friends anymore. I did the best I could to get you back by showing you that I didn't want to give up on you, even though you weren't trying to get me back. I blew up your phone trying to hang out with you. When I finally saw you at dinner, I was shocked and happy all at the same time. It was as if nothing changed, just our label.
That night you kissed me after so long and I felt the sparks again. It was the best feeling I've felt in a long time. That's where I was lead on because you told me you loved me even though you don't see us being together right now. You wanted to focus on yourself because you just graduated and you wanted to focus on your career goals, which I respected because I knew what you were capable of. I just gave myself too much hope about our future of being together again because you really made me happy at the end of the day. We told each other I love you when you were gonna go back to Poland again and promised me nothing will change, we'll see each other soon. So I had hope for us again. And I was so excited and couldn't wait to see you again.
When you came back you blocked me from IG and said it was no biggie. You lied. You told me you didn't want to do this anymore. And it hurt me again. Even though it hurt me, I was still trying to be in your life because I still loved you. Two days later, a friend tells me about a post on IG you posted with a girl. When I hurt the news, it hit me like a ton of bricks. I've never knew that piercing feeling of my heart being shattered. It made me realize everything you've said was an entire lie. You really made me believe that you would one day call me and tell me that you want to be with me again. But that will never happen now. I just wish you told me. Every single night I would pray to God hoping you would see how much I love you and that you would come back to me saying that you love me and want to be with me too. I know we weren't perfect, but I knew we were worth it. I've never fell so hard for someone as much as I fell for you.
One day, I really really hope you realize what we had was real. I know you're happy now. As much as I want to sabotage your relationship now, I won't. It's your life, so if you're happy, so be it. I just hope she loves you as much as I ever did. I hope this isn't a goodbye. You're a great person, despite what you did to me. I wish you the best. Dbác Misiu.