Our story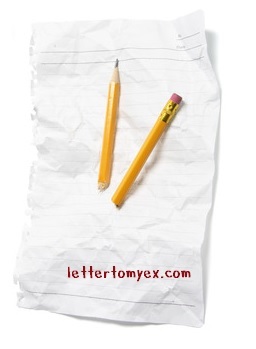 Dear my first love,
To the one who is always there in the back of my head, the one I compare everyone too…
As I vaguely remember, I was 12 turning 13 and you were 11 turning 12. From swimming together, going for walks with our mutual friends and to staying up late, telling one another everything, you were my absolute best friend. As time went on, our friendship intensified and we began to grow closer until one day, we had an argument that tore apart our friendship. Nothing was the same, it was either small talk or no talk between us for the next year. I missed you. I missed out late night talks, our "I love you more best friend" arguments, and just being in your presence. It was when I had just came home from Saskatchewan and I was about to graduate public school when we reconnected. We constantly talked virtually for about a month straight and as I remember, I was quite confused as to whether we were friends or whether it was just phony acquaintance conversation. July 18th 2014, I was 14 and my best friend who happens to be your little sister went to a "public much music dance" together. You were there. I felt awkward and shy. In the mere sight of you, I felt butterflies to the extreme. It was then that I realized my feelings for you had arose. In the midst of conversation with friends, "little things" by One Direction came on. You asked me to slow dance and boy was I ever one happy girl. As the dance came to an end, I walked you both to your car.
Later that weekend, it was July 21st, I was at home texting you and taking selfies. As we were talking, you asked me to be your girlfriend. My heart began to race- as if it were the best day ever. Whether than saying yes, I questioned whether he was serious or not. When he told me he was serious, my heart began to race even faster and I said of course, I'd love to be your girl friend.
Our relationship was nothing but smiles, for the most part. It had gotten hard at times when my best friend and boyfriend were siblings. It was hard to choose who to hangout with, but we all managed.
I remember our first time hanging out alone, you came to hangout with me in town. We ate at the pub and then went to the park and watched the beautifully bright yellow sun shine down upon the lake. You were sitting on the rock and I was laying in your lap- you leaned over and kissed me. Our first kiss, the one I will never forget.
Time went on and I began to feel something I had never felt before; love. I loved every aspect of you. From top to bottom, you were beautiful. The most beautiful sight my eyes have been laid on. To this day, you are still the most beautiful sight to my eyes. You brought me immense happiness, gratitude and confidence. You were my best friend, my love and my soul mate all fitted into one human being.
September 28th, 2014. I made a decision that I have regretted to this day and will continue to regret. I ended our relationship. I didn't end what was something so beautiful because I felt any different, I was more in love with you than I ever had been but I was selfish. I was starting high school, I wasn't sure what I wanted. I didn't want to hold you back. I knew you were better off without me. Once you texted me that night, it was then I realized how badly I screwed up. I was hurt. I was destroyed. I thought this was good for you but it broke your heart. Breaking your heart was NOT my intention. I wanted what was best for you. When I saw and heard of how hurt you were, I couldn't help but cry myself to sleep. Knowing how badly I hurt you, it was awful. I was a burden of sadness for months. I eventually began to do bad things and you began to 'hate' me. If you ever had anything to say about me, it was not nice. No where near nice. I never understood why but now I understand. I hurt you SO badly, I shouldn't have expected your respect after that.
Spring 2015- More than half of a year goes by, your sister and I still best friends and I still heartbroken. Every time I saw you, my eyes lit up but you still weren't too fond of me. I tried and I tried, but you didn't care. You didn't want to regain any form of contact with me. It was hard. You were on my mind from day to night, always. You were the first thing on my mind when I woke up in the morning and the last thing on my mind before I fell asleep at night.
Fall 2015- September 6th 2015 you moved across the world with your family. I remember exactly when your mother told me, my heart crushed. Losing the person whom I loved and my best friend both at the same time, crushed my heart and any future of regaining my friendship with you. Despite you being gone, that didn't change nor did it make it easier for me. I still loved and thought of you more than I should've.
Fall 2016- October 28th 2016, I am 16 and now able to fly alone. There I went, I flew to your country to visit my best friend. The moment I walked through the exit door and saw her, my heart smiled. This was the moment I had been waiting for. I missed her more than anything. However, there you were at the back of my head. I figured things would be awkward between us when I arrived to your home. When I arrived and got settled in, I turned around and saw you, we hugged. That hug gave me a type of closure. To feel your body against mine was something I never thought I'd feel again.
I was there for two weeks. We hung out, not a lot but we talked daily. It was a happy talk, not an acquaintance conversation which was what I had expected. It felt good to talk again. I missed you so much.
It's now March of 2017, it's been three years. I'm about to turn 17 and I can't say I'm over you. I love you with everything I have to love and I always will. You are my first love; the one everyone is compared to in my eyes. No matter who I 'date' or 'cross paths with', you will always be the one I would come running back too.
Who knows, "if you love someone, set them free. If they come back, it's meant to be" maybe this applies to our relationship.
I pray to God that we meet again, when the time is right.
— what's meant to be, will be–
Yours always,
"the love of your life"