Finally, I'm done with you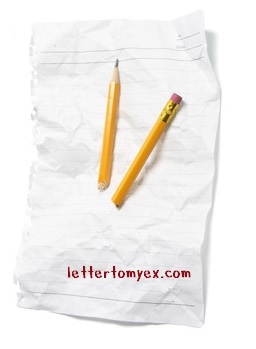 Dear ex,
And when I say ex, I mean, you, Popoye (not the sailor man, not the jhaalmudhi man, but the man who broke ruined my heart), because I don't remember anyone else at this point of my life.
I read somewhere, "After a breakup, the loyal one stays single and deals with the damages until healed. The other one is already in a relationship." Though I don't know where you stand today, but you're probably happy I guess. And writing this letter is just a healing process.
I have no idea how this letter would go, but I'll try my best not to be resentful, or for that matter, your anguish to take birth.
Well, congratulations! You'd just broke the record of your life- being in a relationship for 2 years, 11 months and 7 days! That's your highest I guess. Congratulations!
Hold on. Was that girl ME?
Anyways, I surely had some good times with you (little did I know that they were all fake). But I had no clue about what waited for me ahead. Well, that's me, you know? I don't think about future and live my present. But thanks to you, you just ruined my concept. I probably accepted the 'wrong fact' that you love me and when you said, "Why can't you think about our future? I love you and I promise, I'll always be there for you." Holy crap! Stupid me! I fell for those words. I feel remorse.
It's not just about the 2 years. It's more than that. 5 years back, we stated it a social media friends. But it grew from being bad friends to 'share-some-secrets' friends to best friends, and then, well, couples? Or just another relationship?
I never judged you either as a friend or as a girlfriend. I loved you the way you were. Yes! I repeat- "the way you were!" I still remember myself blushing all around Goa and telling almost all guys around me that I've fallen in love. But I think I should have chosen to sleep with those guys instead.
I still don't know how you felt when I told you that finally I'd fallen for you; because you just won the challenge. Right? The challenge to win me? I wish you could have shown the same effort to sustain the relationship. I was so tired for handling it all ALONE!
I still remember standing beside you when you had no idea about what to do with your life, when you even thought of dying. I still won't accept that I was the one who bought you the hope of doing something. I just wanted to be with your good and bad times. I just wanted to be a part. I wanted you to improve and become better and much better. I simply stood there and saw you grow.
But today, I see myself and I see myself standing all alone doing nothing. But I'm thankful to you. Thank you that you left me. Oh sorry! I left! Because a wise girl leaves before she's left. And this has made me much stronger than ever. I can stand for myself.
The reason I left you are many. But again, I won't judge you.
Being with you, I changed. I changed, not in a good way.
When I never used to tell you where I was going, I ended up inviting you to every place I went.
When I lived my present, you made me think about our future.
Oh wait!
Who was the one who used to say, "Why do all girls take everything so seriously?" Well, I guess, if you promise a girl to have a future with her, she'll take it seriously. Including me! I hate myself calling a girl, but yes, I fell for those words too. And according to you, 'All girls are from the same neck of wood'. Right?
It might take time for me to love back all the things that we both loved, because hatred is holding me back. But then it's just matter of time.
I learnt a lot being with you. You just me feel that my favourite song was written about POOP!
I really feel awful sometimes, because how could I did not know that someone's breaking my heart with so much delicacy. You changed my whole concept about love. But don't worry, I still believe in love. Anyways, it's none of your concern.
Today, I still don't know why I loved you, but I surely know why I hate you. Yes, I hate you, even more than I loved you.
I used to say that you know everything about what a girl wants. Today, I hate you because you don't really know what a girl wants. Sooner or later I realised it.
Oh wow! And my favourite part; You think you're Kapil Sharma from that shitty movie, 'Kis Kisse Pyaar Karun' but if you'd ask a girl, or just me, I'd say that you're Rajkumar from the movie 'Queen'. And don't forget, Queen won the National Award!
Initially after our breakup, I stopped listening to songs because most of them were dedicated by you. But today, it's just another song that you'd dedicated to almost all girls you know in your life. See the difference?
Are all girls same or is it you who treat all the girls in the same way?
I might have told you this a lot of times. You must be tired of listening. Sorry!
Today I stand alone and think: "
"Were those kisses real?"
"Were those trips worthy?"
"Did those hugs really meant something to him?"
I can remember the day when I first felt insecure for you- the day you broke the news that you'll be moving to a new place to start a new career. But never did I know that the insecurity would come from 'you clicking pictures with other girls and show me', from 'giving priorities to others' calls when I was feeling down'. And when you said, "She waited for me for 2 years. I think I should give her a chance." What did that mean? You're asking your girlfriend that you want to check your compatibility with someone else?
You'd already fractured your arms and now I feel like breaking your legs and letting you fall there without even showing any hint of sympathy.
Today I hate you so much that it will affect other's life too. Because I don't think that I can trust anyone anymore.
It's getting too long. I think, even writing it down won't be the end of all the feelings. But atleast I feel much better now.
To end this, I would love to inform you that, YOU ARE A LOSER! You just lost the challenge of winning my heart. And you know what? You're a loser because you can't live without girls around you. Maybe girls make you feel better, or maybe they make you feel masculine. Probably you were running away. But remember, the ego that you've that girls are always around you, I'll make sure that I'll never be among those girls and I pity those girls or maybe the girl who's dreaming to be with you forever, because you'll never be satisfied. You don't have the guts to commit; you never had it infact. You are immature to handle it anyway.
Don't even think of coming back to my life, because that'll be humiliating for you. And this is the last of everything between us.
Trust me, writing this letter is making me feel so much better. Just when I thought that I won't be able to live without a person, I survived!
Yours,
Not just another girl!