Good days and bad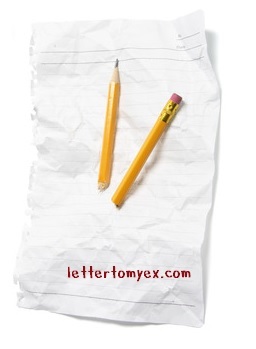 Dear Ex,
I hope you are okay and not hiding anything from me. I'm still here to be your friend and I want to know the things you are going through. I'm guessing that you are probably like me in the way that I have my good days and my bad day.
The good days are few in number and most of the time it's a mix between the good and bad. The good days come and go and usually if I have a good day something screws it up. It could be someone or something affecting it or it could be my own mind. Speaking of my mind I sometimes feel guilty for having good days or a good time. My mind punishes me, and it happens frequently. A lot of times it's when I'm alone or on the bus listening to music. Little pieces of memories like to pop into my mind for reasons unknown. It hurts to think of the good times we had, I miss them but I accept that it's over. I wish we could start over but I know we can't. I just hope you are happy in the end, that all I care about. Even if I'm hurting as long as you are happy I'm smiling. You will probably never see this so I'll tell you everything since we broke up so far, how I feel I guess. Remember I said I have my good day and bad days.
The bad days can start out from the moment I wake up. I lose all motivation to do almost anything. I feel like I failed you and our relationship. I hope you don't think this is true. I tried to make you happy but I guess I tried too hard. I hope you can forgive me for not making you happy.
Happy, that was something I was before we split. Now I'm afraid something bad will happen if I am happy. I know I shouldn't be, but I am and I hate it. I can not forgive myself for the way I treated you sometimes in our relationship. I was an ass a lot of the time, but still you put up with me until you couldn't anymore. I know I have my problem but what I forgot is that you are human too and you have yours. I didn't take this into account, and I was stupid for it.
I hope I can be a better friend than I ever was a girlfriend. I'll put you first in every word I say for now on.
I'm always here if you need me,
Kenzie