I still care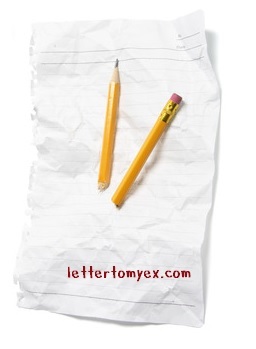 To My Bear,
I don't even know how to start this, I am writing this with tears rolling down my face because I didn't cry, when we ended I didn't cry and I am finally crying. We went through 3 years of ups and downs, when it was good it was good but when it was bad it was horrific. I finally accept half the responsibility for the faults in our relationship, neither of us were perfect but I blamed it all on you.
I shouldn't have ended it the way I did the first time and I shouldn't have ended it the way I did the last time, but thats what it was it was the last time and I have to accept that because me and you together was toxic. I have never loved anyone as much as I loved you and in another world I know we would be perfect together because I don't doubt the love we had for each other, in fact I don't think you can get a love as strong as ours! I know deep down that I can never love anyone as much as I loved you because it hurt me too much the first time I don't think I can go through that again.
Maybe if you weren't so controlling or I wasn't so moody we could have worked it out. Maybe if you hadn't of stayed at your exes house that night, or I hadn't kissed someone else we would be ok. Maybe if we respected each other, maybe if there was any trust there. But you wasn't ready for me, you had a lot of growing up to do, we both never knew how to truly love each other we were too young and had no guidance. And it kills me to know that you have a lot of love to give, and you tried to learn how to give me that love but you never figured it out in time for me to accept it, because when you finally figured it out I was so broken and so hurt by you that I couldn't accept your love. And it now kills me that you have all this love to give someone, and it can't be me.
I hope you think of me sometimes, when you visit a pig farm with your nephew, when you wake up hungover on a Sunday morning and cook yourself a breakfast, when you order Chinese food, when you hear the Lumineers on the radio, when you see a golden Labrador in the street (our barns), when your eating your grans Sunday dinner. But most of all I hope you end up happy, even if it isn't with me I still want you to be happy, you deserve some happiness.
And I don't even know why I am writing this letter, I could never send you it because I know your happy with someone else. Also I don't know what I would want you to say, I don't even know if I would want you back ever. I guess I just need to write it to understand my feelings for myself and to finally after 6 months get it off my chest and accept that… I will always care about you.