I hope this letter one day leads us back to one another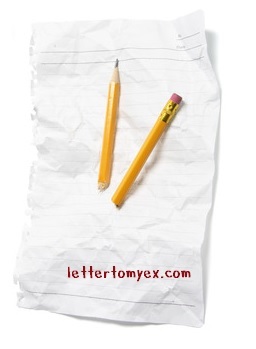 Hey Dee,
I've been staring at an empty page finding the right opening for 3 hours now, desperately needing a way to get off my chest all these emotion and feeling I've got left for you. I've decided, honest is the best way.
I never thought I'd be writing something like this, a break up letter. Especially when it comes to you and me. When it comes to 'Cale'. I've been heartbroken before as you know, but my gosh, never ever like this. It's been 8 weeks since we split up and I remember every word of our fight and the last time I saw your face. That night still haunts me every day. I have never seen you so angry and emotionless towards me, but please don't worry. I deserved every snare and every blunt word. I broke you, over the period of 2 years, to be honest I think we broke each other. We were toxic and yet at the same time so in love and so perfect and right for eachother.
The thing is, you're my best friend Dale. Even after all this time of us not speaking and me being so nasty when you reached out to me, you are and always will be my best friend. I'm heartbroken because we've not only ruined each-other, but we've also ruined 4 years of a perfect, love-filled friendship. I know we'll never get that back, I know I ruined that as well, but oh god, the things I'd do to sit down with a bottle of Lucozade, McFlurrys and Billy's BBQ chicken pizza across from you letting this all out in person. The amount of times within the last 2 months I've drove to our Mcdonalds and turned around before getting into the carpark in fear of seeing you with someone else. The amount of times I've done to drive to your village to go get a pizza or go 'The Asda' but again, fear took over and I chickened out.
I'm so scared of seeing you, but at the same time I keep going to these places hoping, wishing we'd bump into eachother. I guess I'm scared you'd turn away and ignore me and act like I was never apart of your life. I'm scared all this emotion I've kept in my bedroom (and works toilets) will come out and I'll not be able to control my emotions or tears or rage. I'm so scared you might have forgotten about our love, our time together, our spark. I'm so scared you'll shut me out and not let me apologise to you in person.
I can't act innocent in this, I have attempted rebound in order to move on from you. I met someone, I thought maybe this was my chance to start a fresh with someone who doesn't know me, doesn't know you. How wrong I was. I mean, he didn't even like cheese, how am I meant to be with someone who I can joke about grated cheese with?! Someone whose not you. You'll be happy to know, I've deleted Tinder. Not that this matters anyway, I couldn't find anyone worthy enough of swipe right. The main reason being because none of them were you. No-one will ever be you or ever live up to the great love story and chemistry we shared and had together.
Dale, I saw you the other day. I saw you dropping some friends off at my works carpark, I froze and saw you spread (and drift) out of the carpark. Wishing you'd have notice me stop in my tracks in clear view of you and run out and hug me. Oh my, I'd love nothing more than to hear you call me babe, baby, boo or princess again. In fact, scrap that. I'd just love to hear your voice, I should have answered the call when you last dialled me. I should have be brave enough to pick up. I'm so sorry. It's really important you know I haven't blocked your number. I know you've blocked mine, I know this because every now and then, I'll try calling you. I'll try texting you. My calls are always diverted to voicemail and my texts are never answered. Hey maybe once you've read this, you can give me a text and let me know you're okay? Even if you've moved on or don't want to speak, I'd still like to know how you are. Mentally and physically.
Now this is the most important paragraph. This is all the reasons I'm sorry.
I'm sorry for not trusting you even when I said I did, I always doubted if you were cheating again or if you were lying to me about anything. I'm sorry.
I'm sorry for taking all my anger out on you, I know I can be nasty and sometimes, when I've not taken my meds, I know how hurtful and personal I can be.
I'm sorry for pushing you to do things you didn't want to do and always bringing this up. I'm sorry for always mentioning holidays, restaurants and town. I should have toned it down and let you continue doing what you were comfortable with.
I'm sorry I always made us eat where I wanted. Bless you. It was always Pizza Hut or Frankie and Bennys. I'm sorry I forced such boring food on you.
I'm sorry I kept you up most nights keeping you up asking you random, silly questions when I were tired. It was just so nice and soothing listening to your voice.
I'm sorry I made you spend so much money on me in Pandora. I bet you're never going to step foot in that place again. Incase you're wondering, I still have everything where it should be.
I'm sorry I took your Ralph Lauren jacket, please note, I'm writting this letter whilst wearing it. It's drenched in your left over Million spray. It helps me sleep and keeps me sane.
But mainly, I'm sorry I pushed you away. I'm sorry I let everything get to me before letting you know something was wrong. I'm sorry for being hurtful and I'm sorry for taking you for advantage. I wish I could rewind the clocks. Tell myself how much you mean to me and how lost and broken and alone I am without you.
I miss you, I miss everything about you. Your fluffy beautiful bouncy blonde hair after you've washed it, your sweet tone of voice with me. Your bright baby blue eyes and how warm they were to look into. Your laugh, both fake and real. Your emotions. Your fashion sense, although I do have to take some credit. Your love for your car and appreciation for others. How nice you were to my mother and how you'd do anything for her. Your mad urges to get McFlurrys at silly o'clock in the morning. Your cutlery skills. How you make the BEST homemade pancakes EVER. How you'd make me warm vimto when I had belly ache. The way you'd always take time to appreciate every inch of my body and remind me daily you don't care about my size, yet at the same time push me to lose the weight I was wanting to lose. I miss how needy you were and how much you begged and pushed me to play with your back and play with your hair. I miss checking your back every night for spots and popping any that needed doing. I miss watching you squirm through having your eyebrows plucked but LOVE the end result. I miss you talking in your sleep and making promises to me and even though you couldn't remember them, keeping them anyway.
I guess what I'm trying to say is I miss everything about you Dale.
I'm not going to lie to everyone, including you and say our relationship was perfect, because it was far from that. But the love we had was real and pure. The love I have for you is never ending. I still believe you're my soul mate and one day we'll find our way back to one another and have the future we planned. Who knows, in a few years time we both might just bump into on another again and our love story can continue where it left off. Until then, please stay safe. Please drive safe. Please buckle down and find a job you like, keep applying for those car shops, I believe in you. Please find someone who can give you everything I can't. Please make sure you're not up all night watching Flash and DC Legends or Rick And Morty and get some sleep. Please eat real food, not just McDonalds junk.
I hope this letter brings you peace. I hope it give us both the closure I believe need, I hope one day it'll lead us back to each other. Either as friends or lovers, I'd just be happy to have you back in my life.
Dale, Boo, Baby, Babe, Sugarplum, Dee. I love you. I will always love you.
I promise, I will never change my number so you can text me and contact me whenever you need.
-I hope your families okay & that does include Jess. I miss them ALL so very much. I hope Hodor passes his test soon, I will keep an eye out and wish him the best of luck from me.
Forever your princess.
Ps. I got my ears pierced. It hurts. Don't get your ears pierced.