To my ex who is in the navy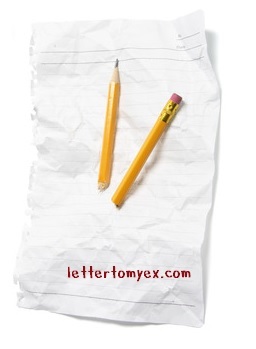 Dear ***,
I can't even begin to tell you how many times I've tried to avoid writing this letter to you, because I know it's the last one. I realized I need to do it as soon as I can because it seems like it takes awhile for you guys to receive mail there. I really do hope you've enjoyed your stay there and wherever your off to now, I truly wish nothing but the best to you. You were nothing but the best to me and I'd like to think I was the same way to you.
You were my very first love and I want to thank you. Thank you for teaching me how to love someone. Thank you for all our memories together. Going out and surfing for the first time, which by the by I still have all those GoPro pictures and videos. To going to the most magical night which was prom and then going to the hotel after. To you teaching me how to skateboard. To going to boomers and having the best laughs together. To me meeting your mom and grandma for the first time, and loving them both equally. To me being sick on your graduation day but still going because I wouldn't miss it for the world. To you going to my graduation and meeting the rest of my family. You did things I know no one else will ever do for me, and for that I am forever grateful of you. Those things I just listed are not even a quarter of our lovely memories together. I remember the day we met at ********** and I thought you were much older but very cute. And we would always flirt on the sales floor and how we would always try and take lunch breaks together.
You made me so happy ***. You made me the happiest woman alive. And I would go back in time and do it all over. But unfortunately I can't so what I can do and what you can do is move forward. Move forward from all the bullshit that happened in the last weeks of our relationship. All the petty kid bullshit. I'm not saying we have to forget all that stuff, I'm saying we move on from it. Forgive but don't forget. You want to know what I miss the most? Your presence. Your eyes. Well heck everything about you and of course I miss you. I miss us sleeping next to each other. I miss the cuddling. I don't want to make this letter a list of things I miss about it, so I'll stop there. But know I miss a lot more. But ***, this is my last letter to you so I do have to get everything I've wanted to say because this is my last chance. I really truly am so sorry for everything back then that I did and said to hurt you. From the bottom of my heart I am very very very sorry and would take all the words and actions back in a heartbeat. I really do wish you, your mom, and grandma nothing but the best in life ***. Health and happiness as well. Thank you again for everything you did for me. All the lessons you taught me, all the laughs you gave me. You will never be replaced ***, and you always have a place in my heart. Oh and know I am always wearing one of your bracelets you had in your jewellry box that still sits on my night stand. And also know I still wear that green sweater of yours to bed sometimes. And a couple pair of shorts you left at my house. All of our stuff that we both had drawers for, I still have it all, and it all sits in my closet. I try not to go through because I know it will just make me sad, but I haven't had the courage to get rid of all that stuff yet, it means to much to me.
I know that there was a reason for us coming into each others lives. Because we taught each other things no other person could teach us. We taught each other what its like to have someone be your world, what it's like to be in a relationship, what it was like to be so angry at someone but still work through all the problems we had, we taught each other love, we felt what it was like to be loved unconditionally.I will wonder all the time how you're doing and how the navy life is treating you. Whoever decides to sweep you off your feet again ***, I really hope she is the best to you, and likes the same things as you, and loves your family just as much as I did, and puts a smile on your face and who brings out the best of you. And who can love you like I did, unconditionally. Because I know a person like you deserves nothing but the best in life. So here's to everything we did together, here's to our love, here's to our time together, here's to us. And wherever you go in this world, I know a part of you will still be here because we will always be looking at the same stars , sky and moon. And if you ever comeback here then I guess I'll see you then hopefully. And maybe hopefully soon we can catch up, I can only hope for that. And if you ever decide you'd like to write to me or call me or email me, well my phone number is still the same *********and my email address is still ******************.
I love you unconditionally *** and will continue to miss you like crazy, and please don't ever forget about me and all our special memories together…
Sincerely, *******