Dear M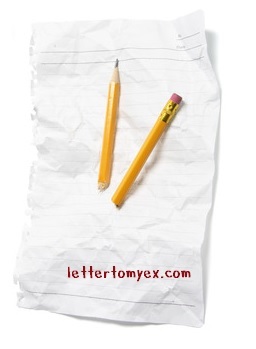 After all this time I still think about you every day. Asking myself what you are doing and if you still think that your decision was right. Asking myself who is listening to your laughter and lays in your arms instead of me and I'm pretty sure there will be someone cause I know that you can't stand lonliness.
Speaking from your laughter I'd do anything to hear it again it was actually what made me fall in love with you at that ball night.
When we spend time together it was as easy and natural as breathing and you told me more so often that it feels as if we'd known each other for decades. For me being with you always felt like coming home after a long bussy and stressful day and since we stopped talking all I feel is homesickness.
Even though it's 4 months now I still cry. A lot.
The last time I saw you was on christmas eve and I still hoped for a cheesy-happy-end-coming-back-together-thing but you clearly weren't.
The look in your eyes was so cold that I literally started freezing. There was nothing left of the warmth and the sparks I loved so much. Every word I said to you that night seemed to build the wall between us higher and higher til I wasn't even able to see you anymore behind it and just left. I cried the whole night in my mother's arms and she told me about all her heartbreaks.
I know that for you it were always the big moments but for me it were always the tiny ones like watching you smoke while the sun set, running through the city with tears of laughter in my eyes chasing the last train home knowing you were right besides me, dancing high in your kitchen as you cooked my favourite meal for me or just watching you sleep.
I remember that night in Berlin when we went home early from this funny party because you were way too drunk and I way too jealous we talked til the break of dawn and at some point you said that you feel as if I couldt read in you as if you were an open book but whenever you'd look at me you'd just stand in front of a locked door.
Maybe I should've took that as a hint for what was coming but when you broke up with me via whats app I just shattered.
I just stopped function. I couldn't eat, I couldn't sleep to be honest I couldn't even breathe. All I did those 4 days was crying and hyperventilating while you send me daily messages about how much you'd miss me.
When we got back together all that followed were horrible 30 days. I never told you but I took psychopharmaceuticals to be able to even leave the house those days.
I cried myself to sleep every night no matter if we talked or not.
You put me through hell with everything you did and you seemed to not even notice but every single person around me did.
Looking back our thing was dead when you started you new job and I don't know why you kept it going for so long.
I never told you how much I loved you when I had the chance to I was just too afraid that you won't say it back but now I wish I could tell you every single day just for you to know cause your answer cannot change the way I feel.
I'm not even sure if you ever loved me or just the idea of us: two abadoned kids against the world.
Some mornings I wake up and craving for a message of you like "i miss you" or "how are you" I guess you don't waste a single thought about me.
Nonetheless I still love you with all my heart and find myself looking for pieces of you in every guy I meet when I'm really just looking to get back to you. I waste my nights on tinder and getting drunk with people I hate to distract myself which never works. I guess I'm a slow learner.
I will maybe always love you but I'll never let you know.
P.