Left behind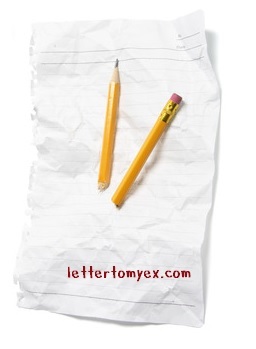 That's it, then. Who would have imagined an ending where I will be voicing my feelings on a silly website that you'll never visit?
Three months of no contact down the line, apologies are in order: I am sorry for what I said, and that I pushed you away. I am sorry I put my own interests before you and demanded your attention, and acting out when you were unable to jump to my requests.
Had I only known what repercussions my actions would hold.
You are an amazing person, A. Your positive attitude, your talents, your achievements, your love. You are most definitely the most wonderful woman that I had ever met. I long to tell this to you in person. This letter will have to suffice.
I have accepted that you wanted to let go. I understand that you feel our goals might not align. I understand that I am guilty in acting out when you needed my support. You also had a choice to stay or go. My best speech and me declaring my love to you couldn't save our relationship. It did not even make you consider it. I saw you crying, real tears, the day we broke up. I wish you just told me what was bothering you and how we could fix it. I wish I knew better. That moment is still haunting me. Endlessly.
But, if you wanted me back in your life, you would have contacted me by now. Perhaps I need to move on too? I have tried. Many, many times. Turns out it's not that easy forgetting the love of your life.
I guess all I wanted to say in this letter, is that I miss you. And the way we used to be. I will always love you, even if it is to my own demise. I wish you well.
The fuck difference does it make, though? I am talking to myself, while you have moved on. Not sure why I took the time writing this shit.