I wish I was good enough for you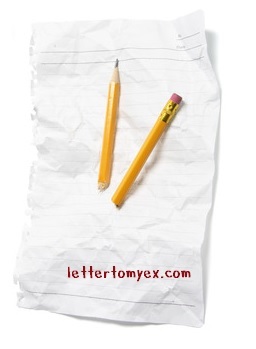 What has it been? Slightly over three months? It has been a huge roller coaster ride. A fluctuating journey of highs and lows. The saying that time heals all wounds is bullshit. The passage of time indeed passes but everyday you remain on my mind.
I loved you to the moon and back. I loved you the only way I knew how. Our random talks of marriage and kids always made me happy, happy that someone wanted me as their life partner. Then one day you told me you didn't loved me anymore, that I wasn't the same person that you fell in love with. I will not make any excuses for what I have become. But what hasn't changed about me is the way I look at you and the way I cared for you. You were my No.1 priority and if I knew even the slightest thing that would put a smile on your face, I would bust my gut out to do it for you.
In the months leading up to the breakup, I lost myself in mountains of interview preparations. I did that all with a swollen face post surgery. It was hard not to eat well, not to sleep well and still having to maintain my focus. I became more oblivious towards how you felt, and to a certain extent made you feel like we have drifted apart. The final straw was when I got rejected from a job position that I really really wanted. A part of my would never understand why you chose to look at how badly I handled the rejection and not how hard I have worked for the position. You said I was too pessimistic and you couldn't have imagined spending the rest of your life with someone like that. I worked hard for the position because I wanted a better future for us. I did not slogged hard for it to lose you.
It was all a really unfortunate situation that happened at a really bad time, one I was not prepared for mentally and I am sorry it happened. I am quite done with apologising but I am just so sorry that I allowed my unhealthy emotional state to change me as a person. The dark side of me is something that has always existed and I have never been brave enough to fix it. I have always been the sort to be really hard on myself. In fact, I might just be the world's leading expert in blaming myself.
But do you know why I always blame myself in unfortunate situations. Because at least its an answer. Sometimes we just need a reason when the situation becomes entirely unreasonable.
I could never open up to anyone completely except you. I remember it was December in 2014 when my grandmother passed away. I was filled with regret about how I didn't spend more time with her. I cried badly like a little child and you had me in your arms. You have never met her but you cried when you saw how devastated I was. You always took it upon yourself to make me feel better but babe I never needed you to do that for me. You were my biggest pillar of support and you always had that unwavering faith in me.
But then you crumbled. You left. You walked away without looking back. You seen the worst parts of me and you decided enough was enough. Suddenly I was this figure of hate to you. We were always so beautiful together and I will never have a chance to show you that I could indeed become the man you hoped I could be. Those future plans that we had made together are now nightmares for me. The mention of your name which used to be heartwarming is now heart wrenching.
I got too comfortable with the idea that you'd always be there, that in some ways, I was ignorant to how seriously bad the situation was. I thought in a sense we were invincible because of how long we were together and could work through anything, fight through thick and thin for each other, but I was caught up in my own darkness, rather than concentrating on the now and fixing all the mess that I have been gradually causing.
As Valentines' day approaches, I know you will be spending it with someone new. Although we have been together for close to 6 years, you moved on really quickly just like how I used to jokingly said you would. How do you let go of something so hauntingly real so quickly though? How do you fall in love with someone we used to have had arguments over? You told me they were just feelings and that there was no explanation for it.
Did you jump right back into a relationship because you missed the routine of being in one? How do you just let 6 years go by like that. Breakups are painful. But there was no hurt on your part. There was no healing on your part. You have now happily moved on and I hate that I am still here licking and healing my wounds. How would you have felt if we were to switch roles today?
I looked for you in every girl I have tried to forcefully meet. I can't bring myself to kiss anybody else, can't bring myself to have a sustained period of conversation with anyone else. More importantly, I now do not dare to show anyone else the worst parts of me. I fought for you because something so real must definitely be worth it. I did what I did because at that moment I felt it was the right thing to do. I fought for you because you were the love of my life, and even if I were to find love again, I would already have experienced the greatest love of them all.
You represented the purest version of me. The best version of myself. You made me want to push my limits, made me want to aim for the stars and ultimately become better so that we could have a better future together. Without you now, I feel lost. You were my rock. I did not just lose my other half, I lost my best friend.
I wish things could be different between us. I am sorry that you were unhappy with me and that I could not give you the happiness you wanted. I wish I was good enough for you. I wish you all the happiness in the world. I hope everyone in your family is well. They have always taken great care of me and I loved them like they were my own.
The depth of your love today represents the depth of your wound tomorrow. Perhaps thats why I still find myself nursing it.
All I want is for you to be happy. I love you. I will always love you. You were my light in the darkness and my constant in the uncertainty. The 5 and a half years were the best time of my life. Whether I find a way to move on or not, I will make sure our paths never cross again. It's what you want and hopefully cutting me out is what makes you happy.
You probably will never read this. But Thank you for being my rock.
You always seen the best of me because you always were the best of me.