Letters to nowhere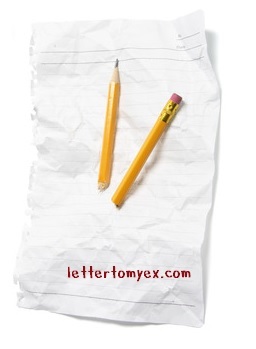 G,
The first time we broke up, it was the fault of the both of us. We slowly grew apart. But at least I tried to keep us together. You, on the other hand, made it so clear to me that you had no more interest. Talking about that suuuper hot guy in your cohort, only using me for your passive aggressive vents that made me feel like you were mad at me, saying insensitive things to me when I poured my heart out for you. That's why I broke up with you. I did you a favour, and at the expense of my own feelings. Then you sent me a text.
You tried to build back our friendship. I thought that was fine, we were partners-in-crime in the first place and you really did mean a lot to me. We were becoming close again, rekindling the fire of our one-of-a-kind friendship. I even took you out on my birthday, and you even got to meet my friends. I took that chance to give you a letter, one that I wrote to say thank you for the experience you gave me. First love, you know. I guess that was my own mistake, because apparently you still "loved" me, and that letter was your trigger.
God forbid I get over you. I was already doing so well, there was this guy who I started liking. But you had to come back with your own letter, saying you missed me, you wanted me back, you were sorry. But I was afraid you'd hurt me again, so I said no. And just like that, I lost my best friend a second time. It wasn't even my fault. How could it be my fault that I was over you? You just started treating me with this passive-aggressive hate that made me feel like the villain. Just because I was trying my hardest to move on and live for ME.
So I gave you another chance. I promised myself I would treat you five times better than before. Funny, you actually made me feel like I was the one who fucked up. I spoiled you, with gifts, love, letters, and my precious time. But the thing I was afraid of most happened. We fell apart, in the exact same way.
At this point, I gave up. I hated you, you hated me. I didn't want my first love to become a stereotypical hated ex. I wanted to at least end on a nicer note. I blamed myself for my naivety, my compassion, my love. It was painful. I'm not saying it didn't hurt for you, I'm sure it did. I just hope it hurt a billion times as much as it did for me. You don't deserve my love. You deserve my pain.
Your best friend that I was replaced with? You lost her, too. You seem to just drop everyone who ever cares about you. Now, she and I are good friends. You kept screwing us over, especially me. But fuck me for being forgiving, and for trying to move on. For my birthday this year, you just had to send me a fucking five-page essay "explaining" yourself, even saying you still wished we were together? Thanks. It made me feel bad for you, and I even sent you a reply back. You wanted to talk again, so I said yeah, why not?
Fuck you for not replying. Tell me, how many times are you gonna play with my emotions, my memories my heart? At least I had enough hate for you to tell you I had a boyfriend. If that pissed you off, then I'm happy. Even now, you still do these deliberate things to get my attention, like making a private account on Instagram with my old username on it, writing dates that were important to us in the bio. God, you're so petty.
We worked so well together. It's a shame we couldn't last. But I don't want you in my life anymore.
Bye, G. I hope you have a good one.
Loved,
F