If You're Wondering Why I Broke Up With You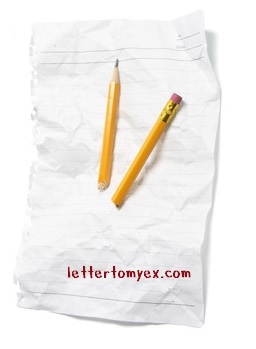 I am going to start this off by saying that I am not a perfect person. In fact, I am can be a pretty shitty person. I hold grudges for too fucking long and the way I broke up with you still bothers me today. I NEVER thought I would have ended a relationship in such a horrible manner. Yet still, part of me is almost glad that I did it through text. I mean you were practically told me to do so! Remember when you said "If you're going to break up with me you might as well do it over text!" Well, I was just doing what you said. I should not feel guilty, because I don't think you even deserved a real break-up. And that is because you are a shitty person too! Until now, I think you got off pretty fucking easy. But I am done keeping all of this anger inside of me. I am done trying to avoid hurting your feelings because of your depression. Yes, it is awful that you have depression and anxiety, but that does not give you an excuse for the way you acted. Also, it does not give you the right to make me feel guilty about getting mad at you. I'm done hiding the truth from you. It is time for you to know EXACTLY why I broke up with you.
First of all, you are sexist. Calling my vagina a "pussy" or saying that I have a nice "snatch" is disgusting and disrespectful. Also, you told me pretty early on that you did not support feminism. To be fair, you did say that you support equal pay, but that is just one of the many issues that feminists are trying to tackle today. However, you don't believe that men and women should be treated the equally. WHY FUCKING NOT? Men and women are both humans in this world and women do not need special treatment because we are not delicate little flowers! We are fucking strong, just like men are fucking strong. It was kind of you to always open doors for me, but why the hell did you feel emasculated when I would try to open a door for you? Chivalry is dead, but acts of kindness should go both ways. This brings me to another point. You paid for my meals ALL the time. Any time I spent a DIME when I was with you, you would freak out. WHAT THE FUCK IS WRONG WITH YOU MAN? I bought myself clothes and you felt the need to pay me back for it! Your ability to spend money on me was not impressive. In fact, I HATED that you spent so much money on me. I mean, let's be real here: my family has a lot more money than yours does. I know you were not doing well financially and while it should be sweet that you wanted to spend the little money you had on me, you weren't being smart about it. And THAT is why it was so unattractive. A person who does not know how to be responsible is not attractive. Oh and I cannot forget to mention that time you told me you almost started crying when I DID pay for you. You looked so embarrassed that a GIRL was paying for your ticket to ice skate. It was $10. YOU COULDN'T SWALLOW YOUR PRIDE OVER 10 FUCKING DOLLARS! How pathetic. How pathetic that you think that you are less of a man because I paid for your ticket. And right now I just need to say the words I should have said to your face: FUCK YOU!
Second of all, you don't deserve a fucking medal for dating me. You'd tell me multiple times, "You are pretty but the guys at school haven't dated you in the past because you are black." What the fuck was that supposed to mean? This isn't the fucking 1960s! I told you that you had offended me too. I TOLD you and then you had the AUDACITY to defend your statement! "It's just plain fact! It's a fact that guys are more attracted to white girls. I mean at least I don't see color." Newsflash: interracial couples are on the rise so you are not special for dating a black girl (even if you are a white male!) Still, let's say your so-called "facts" were true. Why the fuck would you say something like that to me? Was that supposed to make me feel good about myself? Am I supposed to be happy that I am attractive…for a black girl! Do you understand that if you think that way, then you automatically expect all black girls to be ugly? This is not only extremely false, but also very racist. I understand that some people in this country would not date me solely for the color of my skin. However, in the Philly area, most people are pretty accepting. At least much more accepting than Alabama (I'm just guessing here, I've never actually lived there!) But when you said things to me like "I think it's cute that you're a basic white girl", did you even realize that you were being racist? Yes, I am not like the stereotypical black woman. I am also not like the stereotypical white woman. Stereotypes place people in generic boxes that create unrealistic expectations of people, which is why they can be so damaging to society. People are much more complex than stereotypes make them out to be. So when you said that you like the fact that I am white, it makes me think that you wouldn't have liked me if I had "acted black", or whatever the fuck that means. It makes me wonder, if I was fully black, would you have been attracted to me? If I was fully white, would you have liked me more since I'd finally belong in that box of expectations labeled "white girl"? So basically, if you only liked the white part of me then you are definitely not special. You are actually a racist!
Third and worst of all, YOU FUCKING ASSAULTED ME! DO YOU EVEN REALIZE THAT YOU DID THAT! EVERYTHING WE DID PAST MAKING OUT WAS NOT FUCKING CONSENSUAL! You need to learn something or two about consent because I did not even realize this until after we broke up, so I imagine that you didn't either. Maybe you still don't know that it was not consent. Anyway, for the longest time, even after the break up, I did not understand why I was still so bothered by that first time I sucked your dick. I did not understand why I had cried when you saw my breasts for the first time. I did not understand why I was so uncomfortable with you reaching down my pants and grabbing my naked ass for the first time. And I did not understand why it hurt so much when you fingered me (that's because when a girl isn't turned on, her muscles down there are tighter. Vaginas do not loosen when a girl loses her virginity!) I did a lot of acting when I was with you because I did not want to disappoint you. I am so sorry that I was not being completely genuine, but I could tell that you were getting really into it, so I figured that I should at least seem like I am too. However, I should not have let our relationship get as physical as it got because I was not ready for it. I did not know that even though I was your girlfriend, I didn't HAVE to do anything I was uncomfortable with, even if YOU were comfortable with it. Long story short, I blame my lack of knowledge on consent as being the main factor in my decision to just go with what you wanted. You said that I was giving you signals to take our relationship further, but aside from making out, I WAS NOT GIVING YOU SIGNALS! Letting you grab my CLOTHED boob does not mean that I want to blow you! It means that I like it when you grab my boob. My CLOTHED boob. IT DOES NOT MEAN ANYTHING ELSE! Taking my bra off underneath my shirt does NOT mean that I want you to look at my boobs, let alone touch them or suck on them! I just wanted a little less material between your hands and my breast, but I still wanted material there. I am sorry if I did not clearly convey what I wanted. However, you should have at least asked me if it was okay first. I mean, there are romantic ways do that. "Would you like it if I touched you there?" in a sultry voice would suffice. The worst time though, the absolute worst thing that ever happened was definitely the blow job. Do you understand how fucking terrifying it is to have your face forcefully pushed into a dick? I mean I did not want to do the act in the first place, but I could tell you wanted me to it so I agreed. To be fair, THAT was probably consent, because even though I didn't want to, I said I would do it. That was my fault. However, when my mouth was hurting and I was starting to get uncomfortable you wouldn't let me stop. When I tried to get my head back towards your face this is what you said to me.
"What? Come on you didn't finish."
YES I DID FINISH! I DON'T CARE IF YOU DIDN'T FINISH BUT I HATED EVERY SECOND OF THE ACT AND I DIDN'T WANT TO DO IT ANYMORE! WHY COULDN'T YOU JUST LET ME WAIT UNTIL NEXT TIME TO FINISH! WHY COULDN'T YOU JUST WAIT UNTIL I WAS READY TO ACTUALLY FINISH YOU OFF. WHY DID YOU PUSH MY HEAD INTO YOUR FUCKING DICK OVER AND OVER AGAIN! You had all of the power over me and I couldn't escape it! AND I TRIED TO ESCAPE IT! I TRIED REALLY FUCKING HARD TO KEEP MY HEAD AWAY FROM YOUR PENIS BUT YOU KEPT SMASHING MY LIPS ON IT! It wasn't until I said, "You're forcing me!" that you finally stopped. But the damage was done. And I had officially faced one of my worst fears in life.
I don't understand who would ever want to date you. I mean, typically, females who aren't feminists are perfectly fine being submissive and are much more attracted to strong, confident men that are also likely arrogant douchebags. Well, you are not any of these adjectives! So basically, I cannot imagine too many non-feminist women actually liking you. Now I would hope that most feminists could fall in love with any type of man, whether they are more dominant or submissive. As long as these men are respectful towards women and have a good personality, then a good feminist girl will fall in love with them. But you have neither a good personality, nor respect towards women, so I am really not sure if a woman will ever date you as you are right now. I mean there is just nothing to like about you! Granted, I am probably not the best source on things to like about you because I am so fucking mad at you that I can't even remember any of the good things about your personality. Anyway, if you never change your attitude towards women, I really don't think that you will have much success in future relationships. I'd recommend that you gain some more respect for women, but what does it matter what I think. Oh, I guess you could just become an overconfident douchebag. You'll still "get" girls but I'm not sure they will have much "quality." Really, it is your choice.
So you may be wondering why I am telling you all of this now. Well, the fact that I'm telling you this months after our breakup is because it is still bothering me. I hate how you don't even know how much you have affected me. I am shaking right now as I write this because I am still so fucking mad at myself for letting you say and do such horrible things to me! By no means was I perfect in our relationship. However, that does not change the fact that you treated me pretty terribly. So I'll leave you with this last message: I am sorry for all of the things I did wrong in our relationship. Clearly our communication was horrendous. But please, listen to what I've said to you. No man or woman should experience what I put up with in our relationship. In my next relationship (which will probably be years from now, but I have hope I'll fall in love one day), I will fix the mistakes that I made in this one. I can only hope that you will do the same.